Gripping a stubby holder that says "You need balls to have a vasectomy", Alex Giraldo, 37, of Botany, was pain-free and smiley after getting the snip on Saturday morning.
His mates "joked I was getting my balls cut off".
Mr Giraldo and his wife only wanted two children. Now that their children were eight and three, he wanted to do his bit for family planning, mainly because his wife suffered side effects from other contraception.
Leading non-profit family planning clinic Marie Stopes Australia says vasectomies are gaining in popularity again. After reaching a high of nearly 29,000 in 1997, numbers dropped dramatically over the next decade, partly because of the introduction of long-acting, reversible contraception.
In the past four years, however, they have risen about 4000 a year to 24,380 in 2017, Medicare data shows, with a rise in the number of 20-somethings undergoing the procedure.
"The trend is men in their 30s who either don't want kids or don't want any more," said Dr Justin Low, the national lead vasectomy doctor with Marie Stopes, who did eight vasectomies at the Stopes clinic at Westmead on Saturday.
"The vast majority are men who have finished having kids, but we are also seeing more young men in their 20s and older who don't want to have kids at all. They say there is enough children in the world," said Dr Low. "It is rare, but it is happening increasingly."
One young man in his 20s, who recently had a vasectomy,  told Fairfax Media that he was doing so because he didn't want children and he wanted to help save the planet.
Many men take years to make the decision, but George, 35, of Castle Hill (who did not provide his surname), acted quickly after two condom failures because he wanted contraception that was "100 per cent guaranteed". The family has two children, and his wife would have "no chance to pursue her career" if she had more.
Nursing staff said men were saying they wanted to take more responsibility for reproduction and family planning. Others feared being trapped. "Apart from condoms, men don't have control over their fertility. Woman have been the custodians of fertility," Dr Low said.
Each man receives extensive counselling before the procedure and is reminded that it is a permanent procedure. Reversal operations are not 100 per cent successful, not covered by Medicare and the surgery is more complicated and expensive.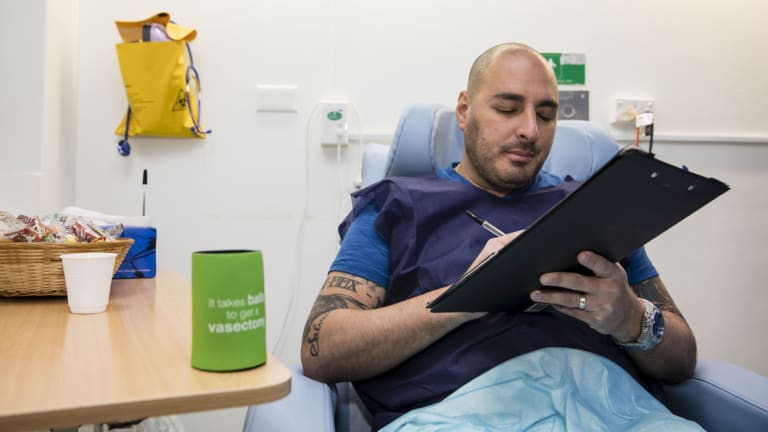 Alex Giraldo, 37, sits in the recovery room after getting a vasectomy at Marie Stopes in Westmead in Sydney.
For the past 20 years, men aged 35 to 44 have accounted for about 60 per cent of all vasectomies.
In 1997, when the median age of a new father was 32, men aged 25 to 34 accounted for a little less than a third of all vasectomies. In 2017, when the median age of new fathers was 33.3, vasectomies among this age group accounted for about one in five of all.
Unlike 20 years ago, many of the men in this age group may not yet have had children or are choosing to have fewer than in the past.
Social geographer Mark McCrindle said this correlated with a drop in the average family size to about 1.9 children. Twenty years ago, when vasectomies peaked, more people were concerned about population growth, a trend experts say is emerging as our cities get overcrowded.
Called the "national ball whisperer" by his surfing mates, Dr Low does 1300 vasectomies in NSW each year, more than anyone else in the state, and about 5 per cent of all those done in Australia.
He uses humour to allay men's fears and debunk misinformation and myths. He tells former football player Peter,  who had a vasectomy on Saturday, to use contraception until a test three months later shows he is "firing blanks". In about one in 4000 cases, the vas deferens (which carry sperm from the testicles to the penis) join up again.
About 80 per cent of men don't feel the local anaesthetic needle, which is injected into the skin of the scrotum. The procedure these days is "scalpel free", and the incision is sealed without a stitch because the skin in the scrotum is highly elastic and reattaches naturally.
With a new, open-ended, no-scalpel technique that causes less pain and pressure after the procedure, Dr Low uses a tiny instrument to make a 2mm to 3mm diameter hole in the skin of the scrotum – not touching the testicles.
"It is not like you are getting a kick in the balls," he said. "It is no more sensitive than the skin on the neck."
He cut one end of each of the two vas deferens.  Unlike in the past when the vas deferens was stitched at both ends, causing some pressure and aching, the testicular ends are now left free, and the sperm is re-absorbed into the body.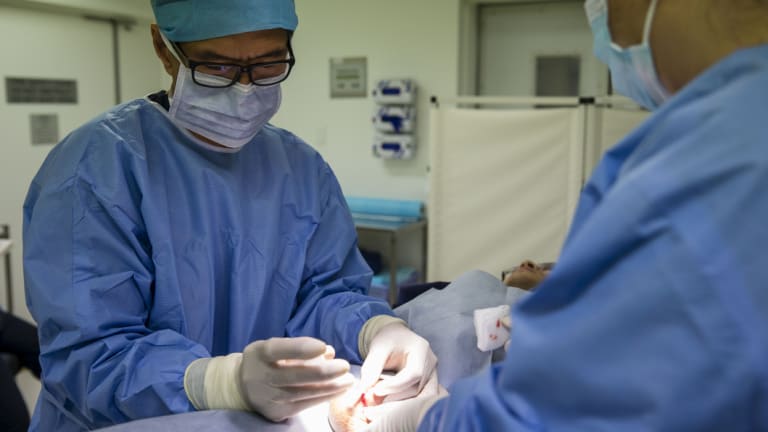 Dr Justin Low performing a vasectomy.
The Royal Australasian College of General Practitioners president-elect Dr Harry Nespolon said he tended to discourage very young men from having a vasectomy unless they had a "very good story" or a medical reason. He would also caution others who hadn't yet had children to think carefully.
"I've lost track of the number of female and male patients (in their twenties) who have sworn they'll never have children, only to come back five or six years later ready to have a child," he said.
Source: Read Full Article