Ford v Ferrari review: My boys and I went back home and cross-checked the storyline. Of course there are some cinematic liberties, but most of the facts and the technical tweaks that went into perfecting the fastest car, are true to fact.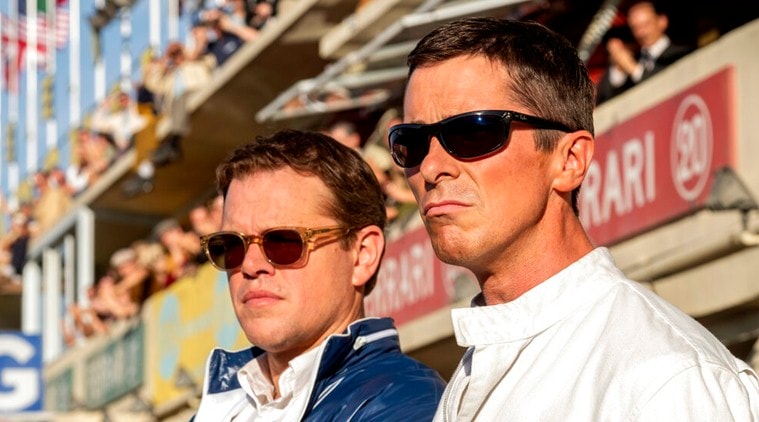 By Sapna Khajuria
Speed, thrills, and a lot of heart — this was definitely one rollercoaster worth the ride. It is a film about the most bitter rivalry in sports racing history, but it's also a story of grit. There is a line in the film, "At 7000 rpm, everything fades. There's just a body moving through space and time. The only question that matters is: Who are you?"
It's 1959 and Carrol Shelby (Matt Damon) is on a rainy racetrack when the thrill ends in a blackout. Years later, down but not out, courtesy a heart problem, Shelby is a car designer.
The reason behind the name of the movie — Enzo Ferrari refuses a merger of Ferrari with Ford, choosing Fiat instead, and sends some ugly insults for Ford, adding insult to injury. An enraged Henry Ford II issues an ultimatum to his staff, to come up with ideas to beat Ferrari at races, or be fired. Astronomical costs and high man-hours be damned;  all he wants is for Ford to beat Ferrari at the world's most prestigious car race, the 24 hours of Le Mans.
The story builds up to the creation of an eccentric crew that builds the fastest Ford car, the GT 40 (and later the GT 40 Mk. II) — the legendary Lee Iacocca from Ford, Shelby and his engineering team, and the most eccentric of the lot, a brilliant Christian Bale as hot-headed but daring race car driver (and struggling mechanic), Ken Miles.
There are many historical milestones the movie refers to. There's the whole concept of teenagers as "invented" by post-war America. The Baby Boomer Generation is the real inspiration for Lee Iacocca's vision: for Ford to think like Ferrari. That meant making new cars for post-War American teenagers with money to spare and the desire to drive fast, fancy cars; not the reliable, typical parent cars the previous generation drove.
There's the pressure to live up to your more successful parents/grandparents- Enzo Ferrari's barbed words aimed at Ford, "Tell him he is Henry Ford II, not Henry Ford" find their intended mark.
Back to the plot: Shelby is possibly the only American to have won the 24 hours of Le Mans race and he is Iacocca's first contact. "Money can't buy a win, but can buy the guy who can give you a shot", says Shelby, accepting the unthinkable challenge of building the world's best race car in just 90 days. He manages to convince an utterly disbelieving and curmudgeonly Ken Miles. Smooth sailing, right? Far from it.
There is the angle of Leo Beebe, Ford's vice president who wants to run the racing division without Shelby and Miles. Miles does not fit Beebe's image of a wholesome American race car driver, and he proceeds to sign up others for the races preceding the 1966 Le Mans.
All of Ford's Beebe-approved cars lose, but Miles figures out each and every problem with the cars, sitting across the Atlantic, listening to his radio.
Does Leo Beebe aka the Suit manage to get another race car driver of his choice for the 1966 Le Mans race, just to prove a point? Does the naturally talented and motivated Ken Miles win the historic race? There are moments there where you will alternate between waiting for your heartbeat to stop racing, and for the lump in your throat to go away.
Fact check:
My boys and I went back home and cross-checked the storyline. Of course, there are some cinematic liberties, but most of the facts and the technical tweaks that went into perfecting the fastest car, are true to fact.
What we loved:
The slick races, getting to learn about an exciting story from history, and Christian Bale's ability to communicate just about everything without having to speak. Without giving away the spoilers, watch out for his expression at the very end of "the" 1966 Le Mans race.
Apart from the high adrenaline car races, some of my almost-teens' favourite scenes were those of Miles with his son, and the friendship between Miles and Shelby. The rough housing and fights resonated with them, and drew some laughs from them (plus a side note, with a straight face, to me on "see, even they fight and we're just kids".)
What's a bit iffy:
I would have loved to see more sequences in the storyline about Molly, Ken's wife. She seemed to have been an equal partner in his journey, yet there was just one well-filmed scene with her expressing her frustrations with Ken's choices. That, and the fact that the movie could have been about 10 minutes shorter, is the only notch in the slightly iffy column for me.
Should you watch it:
The movie is best watched with teenagers. Perhaps best to leave younger children behind; they will go in expecting a movie like the Disney Cars series, and will quickly tire of its slow buildup and relatively serious storyline.
If your child liked Maleficent, here are 5 other movies they are sure to enjoy
Swear-o-meter:
There is occasional mild foul language. Like I said, best to have slightly older children in tow.
What to speak to your children about:
However cheesy most movies about underdogs may be, they do strike a chord, more so with slightly older children, who appreciate a chance to see real life struggles. There's plenty written about how the current generation is blissfully unaware of real struggles; make them watch this one and wait for them to have a chat with you. You'd be surprised about how much they do observe.
Remember the line about everything fading at 7000 rpm? Being in the "zone" where you fade everything out, can be different doe different people For my boys and me, it is swimming. What's your 7000 rpm zone? Worth chatting to the children about finding their own "7000 rpm zone".
(The writer is a lawyer by training, who would rather be a full-time globetrotter, and mom to 12-year-old twin boys who share her love for all things filmy.)
Source: Read Full Article