BALTIMORE — A novel partnership between a legal services program and a maternal health clinic is helping pregnant patients with issues such as housing or employment discrimination.
The Perinatal Legal Assistance and Well-being (P-LAW) program at Georgetown University in Washington, DC, launched 2 years ago as a collaboration between GU's Health Justice Alliance clinic and the Women's and Infants Services division of nearby MedStar Washington Hospital Center, integrating attorneys into the healthcare team to offer no-cost legal aid for its diverse, urban population during the perinatal period. Since then, the effort has assisted more than 120 women.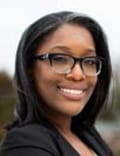 Roxana Richardson
"Our goal was to see how integrating a lawyer can help address some of those issues that, unfortunately, providers are not able to assist with because they go beyond the hospital or clinic walls," said Roxana Richardson, JD, the project director and managing attorney for P-LAW, during a poster presentation at the 2023 annual meeting of the American College of Obstetricians and Gynecologists. "Our initial findings showed that there are issues that patients were facing that needed an intervention from an attorney. We trained the providers and social workers to identify these issues so that we could intervene."
Improving Health by Tackling Legal Barriers
Health-harming legal needs — social determinants of health that have a legal remedy — are drivers of poor health outcomes, particularly for Black women and children, Richardson said.
The program is one of few medical-legal partnerships specifically focused on the perinatal population. P-LAW is one component of a larger initiative at MedStar Health called DC Safe Babies Safe Moms. The initiative includes integrated mental health programming, treatment of health conditions that complicate pregnancy, assessments of social determinants of health, expanded support for lactation and nutrition, access to home visiting referrals, and extended postpartum follow-up. The work is supported through the A. James & Alice B. Clark Foundation.
Patients are evaluated for health-harming legal needs as part of a comprehensive social and behavioral health screening at their initial prenatal visit, 28-week appointment, and postpartum visit. Those who screen positive are contacted by a referral specialist on the healthcare team who confirms the patient has an active legal need and would like to be connected to the P-LAW team. The team then reaches out to conduct a legal intake and determine the appropriate course of action.
From March 2021 through February of this year, Richardson and others with the program have provided legal representation to 123 patients on 186 legal issues in areas such as public benefits, employment, and housing and family concerns. Services range from advising patients on steps they can take on their own (like reporting a housing condition issue to the Department of Buildings), to sending letters on patients' behalf, to appearing in court. Most patients served were in their second and third trimesters of pregnancy. The majority were Black or African-American, aged 20-34 years, and had incomes below 100% of the federal poverty level.
The most common legal issues were in the areas of public benefits (SNAP/food stamps, cash assistance), employment (parental leave, discrimination), housing (conditions, eviction), and family law (child support, domestic violence). Among the 186 issues, work has been completed on 106 concerns and 33 still have a case open; for 47, the client withdrew or ceased contact, Richardson reported.
Most times when obstetricians hear concerns like these they wonder what to do, said Tamika Auguste, MD, chair of obstetrics and gynecology at MedStar Health. Having the P-LAW program as a resource is a huge help, she said. If patients express concerns, or if obstetricians uncover concerns during office visits, doctors can enter a referral directly in the electronic medical record.
Patients are "so relieved," Auguste told Medscape Medical News, because they often wonder if their doctor can help. "Your doctor is only going to be able to help to a certain point. But to know they're pregnant and they have this resource, and they're going to get legal help, has been game-changing for so many patients."
COVID…or Morning Sickness?
In one rewarding case, Richardson told Medscape, a single mother of one child who was pregnant and experiencing hyperemesis explained that her employer would forbid her from working if she had any symptoms similar to COVID-19. The employer mistook her vomiting, nausea, and exhaustion as COVID symptoms and docked her pay. That started a cascade in which earning less meant she was facing eviction and car repossession — and, eventually, overdraft fees and withdrawals from her bank. She was so despondent she was thinking about self-harm, Richardson said.
With the aid of the P-LAW program, the woman had short-term disability approved within 72 hours, was referred to the hospital for inpatient mental health treatment and received the care she needed. She ultimately delivered a healthy baby girl and found a new job.
Tiffany Moore Simas, MD, MPH, MEd, chair of the Department of Obstetrics and Gynecology at UMass Chan Medical School/UMass Memorial Health in Worcester, said she encounters similar concerns among her patients, with the vast majority having one or more social determinants of health.
"I think it's incredible, as we're trying to address equity in perinatal health and maternal mortality and morbidity, to have a more holistic view of what health means, and all of the social determinants of health, and actually helping our patients address that in real-time at their visits and connecting them," said Simas, who also is professor of ob/gyn, pediatrics, psychiatry, and population and quantitative health sciences at UMass. "It has really opened my mind to the possibilities of things we need to explore and do differently."
Richardson, Auguste, and Simas reported no relevant financial relationships.
American College of Obstetricians and Gynecologists 2023 annual meeting: Abstract 1377957. Presented May 19, 2023.
Karen Blum is a freelance medical/science writer in the Baltimore area.
For more news, follow Medscape on Facebook, Twitter, Instagram, YouTube, and LinkedIn
Source: Read Full Article