Primary care physicians who received patient-specific reminders for prescribing high-intensity statins for patients with atherosclerotic cardiovascular disease (ASCVD) did increase their prescribing compared with other physicians.
In a 15-month study, initiation or titration to guideline-recommended high-intensity statins was 3.8% higher in the intervention group than in the usual care group.
However, 31.6% of the primary care physicians who received the reminders dropped out of the study, probably owing to alert fatigue.
The findings are from the Cluster Randomized Trial of a Personalized Clinical Decision Support Intervention to Improve Statin Prescribing in Patients With Atherosclerotic Cardiovascular Disease (PCDS Statin) study, presented March 5 at the American College of Cardiology (ACC) Scientific Session/World Congress of Cardiology (WCC) 2023 and simultaneously published as a Research Letter in Circulation.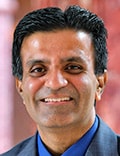 Salim S. Virani, MD, PhD
"This trial had positive results in terms of high-intensity statin use, halted time-dependent decrease in statin use, and increased medicine adherence," Salim S. Virani, MD, PhD, from the Michael E. DeBakey VA Medical Center in Houston; the Aga Khan University in Karachi, Pakistan; and the Texas Heart Institute/Baylor College of Medicine, concluded during a press briefing.
There was a 10% absolute increase in high-intensity statin use in the patients whose physicians received a reminder, he pointed out.
That is, 10 reminders needed to be sent (most likely for different patients) for one patient to be initiated on or titrated to a high-intensity statin, Virani told theheart.org | Medscape Cardiology. However, physician dropout from the study was high, "despite 4 years of work to get buy-in from clinicians and understand how this can get implemented in the workflow," he said.
COVID-19 surges and lack of ability to click directly from the reminder to initiate a prescription may have reduced the efficacy of this decision support tool, Virani suggested.
'Find Ways to Close Care Gap'
Commenting on the findings at the press briefing, David Cho, MD, UCLA Health, and chair of the ACC Health Care Innovation Council, said that this study shows a "fantastic way to try to affect population health." However, the results also highlight alert fatigue.
"Bottom line," Cho said, "we know which medications work. We need to find repeatable, scalable solutions to identify patients with that care gap, create that touchpoint with the healthcare system, and then create an action to address that care gap, and close that loop back to the patient."
This is a "very important trial" about "one of the most important things we have in medicine," Karol E Watson, MD, PhD, UCLA Health, commented at the session.
Echoing Cho, she said, "We know what works. We just don't know how to get it implemented in all the patients that need it."
She wondered whether adherence might change over a longer follow-up and whether patients decreased use of other lifesaving therapies when they increased use of high-intensity statins. The group will examine this in further research, Virani replied.
Watson noted that a 31.6% opt-out rate is high. "I think that relates to alert fatigue," she agreed, adding that "many clinicians who likely could benefit from an alert never receive it, because they already had three unopened alerts."
In reply to a question from Jagat Narula, MD, PhD, UT Health Houston, Texas, Virani said that although 41.6% of patients in the intervention arm had a signal related to statin-associated side effects, there was no increase in PCSK9 prescribing.
One Changed Prescription for 10 Reminders
Guidelines have a class I recommendation for high-intensity statin therapy for patients with ASCVD, Virani noted, but a recent study of claims data found that only 22.5% of those patients were on this therapy.
The group interviewed 20 primary care physicians, pharmacists, and cardiologists in the VA system, to understand patient perspectives on statin-associated side effects and clinician information needs. They also used machine learning to construct algorithms and develop the reminders.
All clinicians received education about statin guidelines before the study started and had access to a screen "dashboard" that displayed patient compliance with statin therapy throughout the study.
The reminders included ASCVD diagnosis; statin type, dose, and last fill; date and type of statin-associated side effects; and links to 2018 AHA/ACC multisociety cholesterol guideline and the ACC statin intolerance app.
The researchers randomized 27 primary care VA clinics (36,641 patients) as follows: 14 clinics (117 clinicians, 18,427 patients) to the intervention arm and 13 clinics (128 clinicians, 18,214 patients) to the usual care arm.
Patients in both groups had a mean age of 71 years and 97% were men. Most had heart disease (78%), 28% had cerebrovascular disease, and 22% had peripheral arterial disease.
The trial began in August 2021 and ended in November 2022.
"Clinicians in the VA system receive 70-100 alerts a day," Virani said. To limit alert fatigue, after three unsigned alerts, a clinician would not receive a further alert in this study.
The reminders were processed at a central location; individualized to each patient; and sent weekly to the patient's primary care provider, which could be either 2-7 days before a visit (synchronous) or not tied to a visit (asynchronous).
The researchers sent 4928 reminders (73% asynchronous, 27% synchronous) on 4532 unique patients (53% of the patients not on high-intensity statin at baseline in the intervention arm.)
From baseline to 15 months, high-intensity statin use went from 53.6% to 55.2% at the intervention sites and from 55.9% to 53.7% at the usual care sites, for a between-group difference of 3.8% (odds ratio, 1.06; 95% CI, 1.02-1.11).
In the intervention arm, the absolute change in high-intensity statin was +10.1% (ie, an increase) for those who received a reminder vs -0.18% (ie, a decrease) among those who did not receive a reminder.
High-intensity statin initiation rates were similar with reminders that were synchronous or asynchronous with patient visits (11.6% vs 9.6%, respectively; P = .58) but were lower in patients with vs those without statin-associated side effects (9.1% vs 10.9%, respectively; P = .02).
The intervention led to a 2.8% increase in filling prescriptions at least 80% of the time.
The study was funded by grants from the Department of Veterans Affairs (VA) Health Services Research & Development and the Houston VA Health Services Research & Development. Virani is supported by grants from the Department of Veterans Affairs, the National Institutes of Health, and the Tahir and Jooma Family, and has received honoraria from the ACC as Associate Editor for Innovations.
American College of Cardiology (ACC) Scientific Session/World Congress of Cardiology (WCC) 2023 Presented March 5, 2023.
Circulation. Published online March 5, 2023. Full text
For more from theheart.org | Medscape Cardiology, join us on Twitter and Facebook
Follow Medscape on Facebook, Twitter, Instagram, and YouTube
Source: Read Full Article