Surgeons who accept vacations and other freebies from medical device companies could face penalties like fines, stricter oversight, and even jail time, according to experts familiar with the federal Anti-Kickback Statute.
Historically, enforcement actions have primarily focused on the person or organization offering the perks — and not necessarily the physicians accepting it, Steven W. Ortquist, founder and principal of Arete Compliance Solutions, LLC, in Phoenix, told Medscape Medical News.
But that's changing.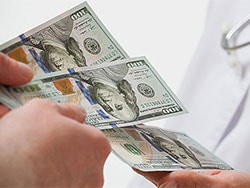 "In recent years, we are seeing a trend toward holding physicians and others on the receiving end of the inducement accountable as well," said Ortquist, who is a past board member and president of the Health Care Compliance Association. He noted that authorities usually pursue the inducing company first before moving on to individual clinicians or practices.
The Department of Justice (DOJ) followed a similar pattern in a recently announced kickback settlement that ensnared an intraocular lens distributor, an ophthalmology equipment supplier, two CEOs, and a surgeon. Precision Lens must pay more than $43 million for offering high-end vacations and other expensive perks to surgeons who used its cataract products.
The verdict marks the end of a 6-week civil jury trial, where evidence emerged that Paul Ehlen, owner of Precision Lens and its parent company, Cameron-Ehlen Group, maintained a secret "slush fund" for paying kickbacks to ophthalmic surgeons. The inducement scheme netted the Minnesota-based company millions in sales and led to the submission of 64,575 false Medicare claims from 2006-2015, a violation of the Anti-Kickback Statute and the False Claims Act.
According to court documents, physicians received luxury travel and entertainment packages, including skiing, fishing, and golfing excursions at exclusive destinations, often traveling via private jet to attend Broadway musicals and major sporting events. Ehlen and company representatives also sold frequent flyer miles to physicians at a steep discount, allowing them to take personal and business trips below fair market value.
Federal authorities initially announced an investigation into the business practices of Precision Lens in 2017 after receiving a whistleblower complaint from Kipp Fesenmaier, a former executive at Sightpath Medical, an ophthalmology supplier and "corporate partner" of Precision Lens. Fesenmaier alleged that both companies were involved in an inducement scheme.
Sightpath Medical and its CEO, James Tiffany, agreed to a $12 million settlement to resolve the kickback allegations.
The DOJ subsequently investigated Jitendra Swarup, MD, an ophthalmologist and cataract surgeon who allegedly received "unlawful remuneration from Sightpath, Precision, and Ehlen" and filed false insurance claims. In addition to accepting expensive hunting and fishing trips from the medical device companies, Swarup was paid more than $100,000 per year for consulting services he did not fully render.
Swarup agreed to a nearly $3 million settlement and participation in a 3-year corporate integrity agreement with the Office of Inspector General. In exchange for compliance with such contracts, the OIG permits physicians to continue participating in Medicare, Medicaid, and other federal healthcare programs.
In a statement from attorneys, Precision Lens and Ehlen pledged to appeal the verdict and "defend…our wholly appropriate actions" while remaining focused on their commitment to healthcare clinicians and manufacturers.
"Endless" Opportunities for Inducement
Unfortunately, opportunities for inducement are "endless," experts say. Extravagant trips, dinners, and gifts can trigger a violation, but so can nearly anything of value.
Just last year, Biotronik reached a $12.95 million settlement amid allegations that company representatives wined and dined physicians to induce their use of its pacemakers and defibrillators. To date, no physicians have been charged.
But after a record-breaking number of whistleblower judgments last fiscal year totaling more than $2 billion, physicians should take note, Radha Bhatnagar, Esq, director of compliance at The CM Group, told Medscape.
"When manufacturers offer physicians kickbacks with the added element of fraudulent Medicare or Medicaid reimbursements, that is typically when manufacturers and individuals face civil and criminal liability," said Bhatnagar, something the DOJ alluded to when announcing a settlement involving 15 Texas physicians last year.
In another case, Kingsley R. Chin, an orthopedic surgeon and designer of a spinal implant, was indicted in 2021 for paying millions of dollars in sham consulting fees to physicians who used his products. At least six surgeons who accepted money from Chin were later named in a civil case and ordered to pay $3.3 million in penalties.
Jason Montone, DO, an orthopedic surgeon who accepted the illicit payments, agreed to a plea deal with a reduced prison sentence, one year of supervised release, and a fine of $379,000.
Although Chin's sentencing hasn't been announced, violating kickback laws can result in a sentence of up to 10 years.
Steph Weber is a Midwest-based freelance journalist specializing in healthcare and law.
Source: Read Full Article