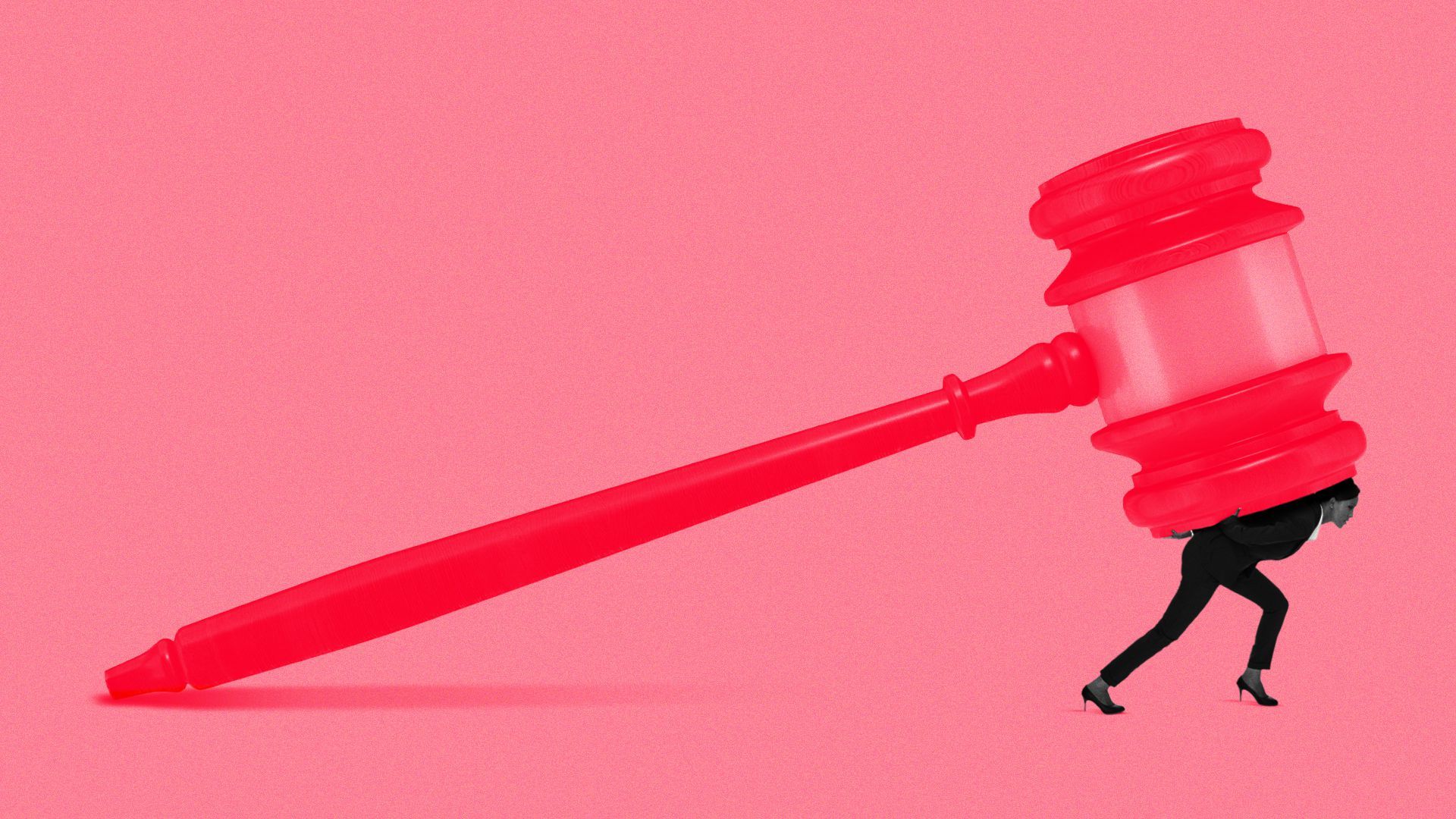 Illustration: Maura Losch/Axios
The Food and Drug Administration yesterday added a new twist to the escalating fight over medication abortion by allowing pharmacies to offer the pills — even as anti-abortion groups mount a unique legal challenge to the approved use of the drugs.
The big picture: The developments underscore how much access to mifepristone, which is used in first-trimester abortions, has become a focal point in the reproductive health wars since the Supreme Court struck down precedents that established a federal right to abortion.
Medication abortion accounts for over half of abortions in the country. Abortion pills are frequently prescribed online and mailed to patients, effectively providing a way to circumvent state restrictions that took effect after the high court decision — even as 18 states require that a patient take the pills in person.
A Trump-appointed judge as early as next month will decide whether to grant a request to temporarily freeze the FDA's 2000 approval of mifepristone, which could end nationwide access to the drug.
Driving the news: The FDA yesterday made a regulatory change that may allow retail pharmacies to offer abortion pills, effectively expanding access as more red states move to ban or restrict access to the procedure.
The move is the latest regulatory gambit to loosen restrictions around mifepristone, which is taken alongside another drug misoprostol during the first 10 weeks of pregnancy and is considered safe and effective by groups like the American Medical Association and the American College of Obstetricians and Gynecologists.
With the change, the FDA has officially removed mifepristone's in-person dispensing requirement and allowed for pharmacies to seek certification to offer the medication.
However, pharmacies might still need to comply with the laws of the state they are located in, some of which could restrict the ability to provide such pills.

A CVS spokesperson said Tuesday night that the chain is evaluating requirements to dispense the drug in states that don't restrict the availability of abortion pills. A Walgreens spokesperson said the company is reviewing the policy change.

Between the lines: The conservative group Alliance Defending Freedom filed a lawsuit in November on behalf of the Alliance for Hippocratic Medicine — which is comprised of several anti-abortion groups — arguing that the FDA did not properly approve mifepristone for terminating pregnancies.

The lawsuit charges that the FDA didn't conduct safety studies and termed a pregnancy an "illness" in order to accelerate approval of the drug, which is also known as RU 486.

Catch up fast: Alliance for Hippocratic Medicine members twice before filed citizen petitions requesting that the FDA add restrictions on mifepristone, but both were rejected.

"This case and this litigation is now ripe to go to court, where we can now challenge everything that the FDA has done," said Erik Baptist, the Alliance Defending Freedom senior counsel. "We filed our case as soon as we could put together the 100+ page complaint and other documents to support it."

What they're saying: If the judge in the U.S. District Court for the Northern District of Texas issues a temporary injunction while the case plays out, "it would mean that the regimen [that] is used in more than half of abortions would no longer be available," said Carrie Flaxman, senior director of public policy litigation and law at Planned Parenthood Federation of America.

"It would effectively result in a nationwide ban on this safe, effective, common method of abortion, even in those states that have protected access" and guarantee access to the procedure, she added.

By the numbers: Following the Dobbs decision, the number of procedures in the U.S. declined from 87,010 in June to 79,620 in August, or 9%, according to a study by the Society of Family Planning.

A total of 12 states have near-total bans in effect, according to the Guttmacher Institute, which expects at least half of U.S. states to enact abortion bans or restrictions.
Elizabeth Nash, Guttmacher's lead state policy analyst, told Axios that the organization expects Florida, Iowa, Nebraska, Ohio and South Carolina to enact — or attempt to enact — new abortion bans in 2023.
Indiana, Montana, North Carolina, Utah, Virginia and Wyoming may potentially follow suit, she said.

State of play: Some legal experts say that anti-abortion forces will have a hard time prevailing in what's the first such challenge to an FDA approval.

The plaintiffs do not seem to have a "fuller understanding of the FDA's regulatory process," said Susan Lee, a partner at the law firm Goodwin who specializes in the FDA's regulation of drugs and biologics.
"I think the prospect of an injunction is unlikely because the plaintiffs will have to show irreparable harm, and I think it's really hard to understand how there's irreparable harm," Lee added.

The other side: "We're very confident that the arguments that are in the complaint and in the motion for injunction are very sound," said Nichole Wilson, executive director of the Charlotte Lozier Institute, an anti-abortion research organization, adding that the FDA's approval of mifepristone rests on a "shaky basis."

The lawsuit was filed in the Northern District of Texas and assigned to Judge Matthew Kacsmaryk, a Trump appointee who had openly opposed Roe v. Wade.

Alliance Defending Freedom's Baptist told Axios that the lawsuit was brought in Amarillo, Texas — where Kacsmaryk is the only district judge — because the lead plaintiff, the Alliance for Hippocratic Medicine, is based in the district.
But the the Alliance was incorporated there in August — only about a month after Roe was overturned — even though none of its member organizations are based in the state and while it has a Tennessee mailing address.

Baptist said that the Alliance is based in Texas because the state is a "centralized location in the country and where many of their members' doctors are located."

What we're watching: Based on the court schedule, a decision on whether to grant the request to temporarily block the FDA approval could come as early as February.

If that happens, "drug manufacturers and distributors would have to immediately cease the sale and shipment of mifepristone for medication abortion," said Jenny Ma, senior counsel at the Center for Reproductive Rights, adding that the lawsuit "undermines the entirety of the FDA approval process."

Zoom out: This is the first time that a lawsuit is brought against the FDA to challenge its initial approval decision of a specific drug. If the court sides with the plaintiffs in the case, it could set a "really significant precedent," Goodwin's Lee said.

Other plaintiffs "might be encouraged to come forward to try to challenge, you know, FDA's initial approval decisions of products that have been marketed for quite some time," Lee added.

Source: Read Full Article